Kate Ritchie rocketed to stardom as Sally Fletcher on the classic Australian serial Home and Away at the age of eight, and became an instant fan favourite.
Sally had many adventures in Summer Bay, but her biggest triumph in life, according to the 43-year-old actress, is her cherished daughter, Mae Katherine Webb.
Mae was born in August 2014 to Kate and her estranged husband Stuart Webb, and shortly afterward, Kate told The Australian Women's Weekly how much she enjoyed parenting.
"Because I like being with her, my only fear is that I may become a complete hermit and never leave the house. I want to talk to her and spend every minute with her "At the time, she stated.
Kate's feelings for Mae became stronger over time, and in a candid interview with Larry Emdur and Kylie Gillies on The Morning Show in 2015, she remarked, "I believe she's divine, she's the best achievement I've ever had and she's lovely."
Kate expressed her love for Mae and spoke up about how much her life changed after she had her daughter in an emotional open letter written in 2018.
Kate remarked, "I thought my life's love was Home and Away… Then I met this wonderful human."
"It's been a long path, but I'm so proud and grateful that I allowed myself the opportunity to realise that my greatest life accomplishments didn't have to be because to Sally Fletcher."
In fact, Mae has taught Kate things she never expected, such as how her relationship with her body is affecting her child.
"Every single thing you do is picked up on by [children]. It's been a great lesson experience to realise that we need to be kinder to ourselves. Every day, I find myself restricting what I would typically say about what I'm wearing or how I feel about my body, which I believe is teaching me to love myself a little more "In 2018, she told Good Health.
Continue scrolling to discover Kate and Mae's sweetest moments over the years.
Kate and Mae, who is seven years old, are great friends.
"To this little earth Angel, goodnight. Thank you for selecting me as your mother "This photo of Mae playing outside was captioned by Kate.
Stunning beach girls!
"She's my style icon and she has no idea."
"That's it. I couldn't be happier, "This sweet photo of Mae napping in her bed was captioned by Kate.
Kate commented of this wonderful moment with Mae in December 2021, "Wishing I could bottle it."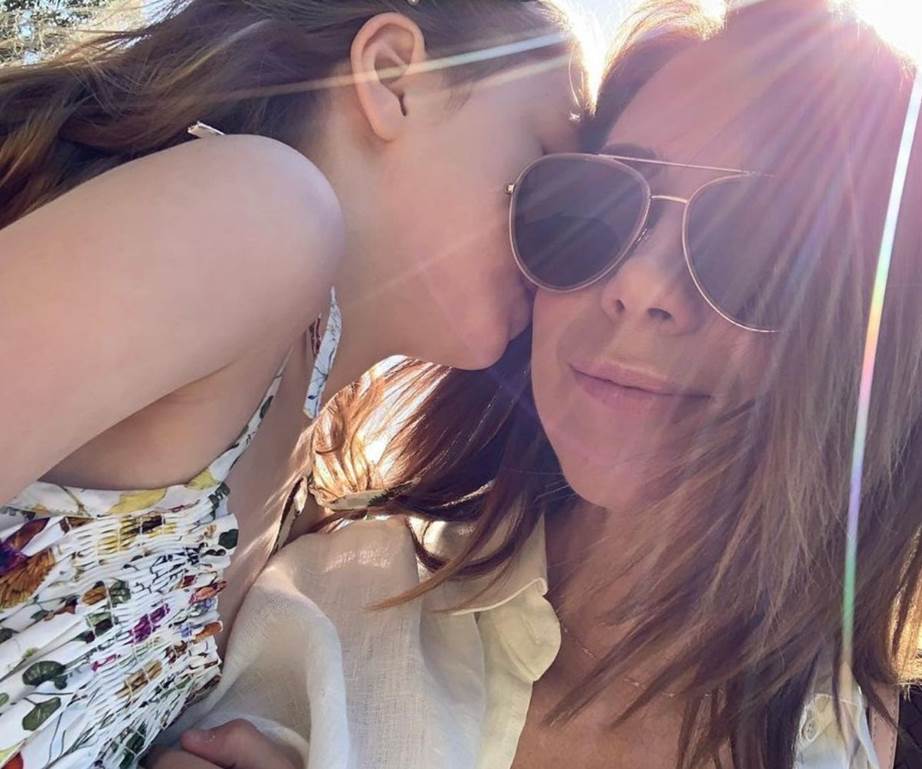 Kate shared a photo with her daughter during their outing to see Santa in the weeks leading up to Christmas, a ritual they enjoy doing just the two of them. Kate tweeted, "Santa bound in the Hyde Park sunshine today..#christmastradition #2021."
Nothing beats a strong hug from your mother.
Kate and Mae enjoy watching movies together, so they went to the movies. She captioned the photo, "Bubba and Mumma movie date."
The girls like spending Saturday nights together. They appear to be learning how to tie shoelaces at the moment.
"When kissing in our backyard was a thing," Kate captioned this lovely moment.
In their flowered summer clothes, the mother and daughter look identical.
The mother-daughter team has been baking up a storm during the lockdown. Kate captioned this photo, "Making shortbread with considerable attention."
They're working on a recipe for Donna Hay cinnamon scrolls. "Thank you for letting me play sous-chef to this tiny monkey in our house this afternoon!" the radio personality thought.
Kate submitted this touching article to honour Mother's Day "I'm grateful she chose me. Because this is… her. It affects everything. #NationalMothersDay2021."