Exclusive information revealed by the celebrity concerning the Paramount+ programme.
Over the past few years, Australia has produced some fantastic material, with many of its shows reaching a global following. One of those successes is Five Bedrooms, whose much awaited fourth season debuts on Paramount+ on Sunday, May 14.
Liz Wendell (Kat Stewart), Ben Chigwell (Stephen Peacocke), Heather Doyle (Doris Younane), Ainsley Elling (Katie Robertson), and Harry Sethi (Roy Joseph) are a group of five unmarried characters who bond at a wedding. There are tragic, comedic, and emotional moments as a result of the unlikely friends' decision to purchase a home together.
Ben, played by Stephen Peacocke, had love for Heather at the end of season three, but the Australian actor promises that fans won't be able to guess what happens next.
According to Stephen, "My character's journey takes an unexpected turn, and he may or may not end up with someone who he completely had never considered before." The reason for Ben's journey in season four is actually someone else we've seen on the programme before, who he discovers to be a potential new friend.
He tells us he's not permitted to say whether any new guest stars will be appearing on the show and takes care not to reveal any major spoilers.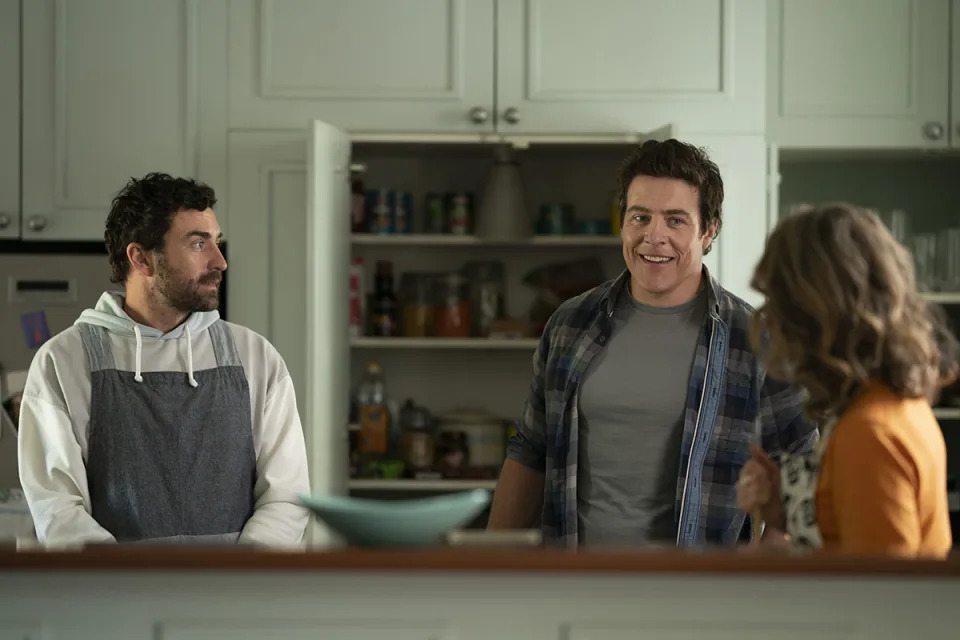 Yahoo Lifestyle can confirm that Alan Jukes is coming back to play Cole Doyle once more, though. When Alan Jukes, who plays Cole, appears on set, everyone gets quite thrilled since he's such a comic character, according to Stephen. Alan Jukes is back and in excellent form. "He makes all of those scenes pretty memorable."
The star was impressed by the superior writing when he received his scripts, and the 41-year-old is confident that viewers would like the upcoming season.
He alludes, "Our fans can expect a good laugh, a few nice surprises, and definitely a few tears." The season finale is also looking promising.
Stephen addresses a possible return to Summer Bay
Stephen played Darryl 'Brax' Braxton on Home and Away from 2011 to 2016, and he soon rose to prominence as one of the program's most loved characters. Fans have been pleading for his return to the show continuously ever since he left.
Following his departure, he was cast in a number of Hollywood projects, including a supporting role in Me Before You opposite Emilia Clarke from Game of Thrones and Sam Claflin from The Hunger Games. He has, however, recently come back to Australia for a number of significant roles in programmes like The Newsreader and Royal Flying Doctor Service.
He acknowledges that he would be open to going back to Summer Bay, but just for a little while.
"I might make an appearance later on for a cameo or something. Yes, I adore that programme. I like working on it, and I liked working with the folks there at the time," he acknowledges. Although it was a great period of my life, I believe I was content with how that character's story ended.
However, I suppose folks frequently make cameo appearances and other appearances, so you never know.
The actor can't say for sure if he will stay in Australia or return to Hollywood in the future because he is willing to go anywhere for projects that call to him.
"Where I work doesn't concern me. I've been fortunate to have some really great positions open up in Australia," he claims. He hasn't gone to many US auditions because of his job schedule during the past three years because he simply doesn't have the time.
I'd definitely give everything a shot because my reps in Hollywood are still bringing me material.