Together with her spouse Jordie Hansen, she gave birth to a boy named Ted in March.
Sam Frost, who was doing some grocery shopping at a nearby Coles store on the Sunshine Coast on Friday, had her hands full.
The former Bachelorette star was pushing a cart full of goods while carrying her infant son in a baby carrier strapped to her chest.
Additionally, it looked that the former Home and Away actress had picked up a Fisher Price sensory toy.
The actress dressed down for the occasion in a black skirt and a graphic-printed shirt.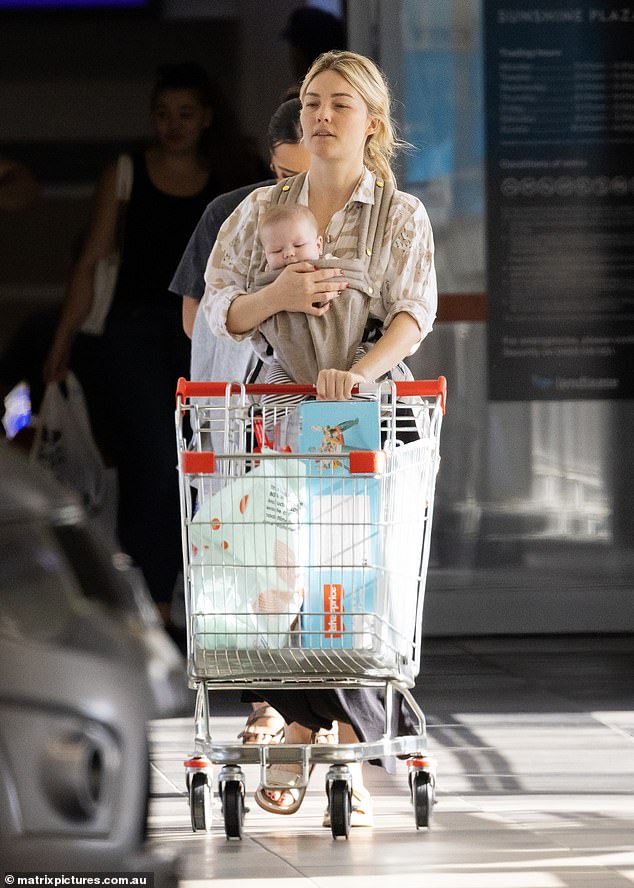 She walked around in casual shoes while wearing a low ponytail in her blonde hair.
In his infant harness carrier, infant Ted appeared to be nodding off and had the cutest face ever.
Sam recently made an honest and candid revelation about being a mother.
She admitted that she found breastfeeding to be the most "difficult" aspect of motherhood on her blog, Believe by Sam Frost.
"I found it incredibly challenging physically, intellectually, and emotionally…Teddy had a fantastic latch-on when he was born, she said.
I distinctly recall thinking to myself, "What an amazing experience, how primal and special breastfeeding your newborn is," as I turned to face him.
My nipples became chapped, rough, and bleeding after a few days. I was in excruciating pain. I totally concurred when a friend claimed that breastfeeding was more difficult than giving birth because she had received an epidural.
Although it was advised for her to "push through it," she claimed that it "seemed to be getting worse with every feed."
I was crying almost constantly—and not just little, cute tears—I was sobbing. She claimed that when Little Ted started feeling upset and agitated, he would also weep.
Sam mentioned that she had relieved a lot of strain by utilising a breast pump and formula.
Ted, the actress and Jordie's son, was born on March 7 of this year.