Adam Rowland, a newbie to Home And Away, had big ambitions for his future in Aussie Rules football, but those dreams were derailed by a shoulder injury. The actress, who has appeared in episodes of Love Me, Five Bedrooms, and Neighbours, is currently crushing it as guitarist Remi Carter in Summer Bay's in-house band Lyrik.
You play a musician but you are also sporty, aren't you?
Yes, I played a lot of sports growing up, primarily Aussie Rules football from the age of six to 23. I completed all of the rep work and really enjoyed it. And I run. I've completed four or five marathons. I participate in basketball and have completed a few triathlons. When I was 15 or 16, I tried surfing at a school camp. However, until this year, when I went out with my friend JR Reyne (who played Summer Bay photographer Emmett Ellison), I hadn't touched a board again. I now believe that I will pick up surfing again.
You grew up in Albury, NSW – a 450km car trip from the beach. How prepared were you for Summer Bay?
Being a country boy, I wasn't that well accustomed to the beach so it's taken a little bit of adjusting. I remember my first day at Palm Beach was quite magical. I thought, 'Wow, this is such a beautiful place' and over the past year, especially this summer, I've really become accustomed to the beach lifestyle.
Remi Carter is a guitarist. How good are your musical skills?
I've been playing guitar since I was 12 years old. I'm no Hendrix or Clapton, but I can certainly hold my own and play quite proficiently. I'm incredibly lucky that I get to combine two of my loves – acting and playing guitar.
What has been your most interesting fan encounter so far?
One time a lady came up to me – she had her children in tow – and they said, 'We just want to say, we love the character on Home And Away and we've named one of our sheep after you'.
Who's your favourite Home And Away character – present or past?
Dean (Paddy O'Connor) has always held a special place in my heart. It was a pleasure working with him because I've always loved the mayhem that his character gets up to. But since appearing on the program, I've had a great time working with Shane Withington. (John Palmer). His sense of humor and creativity make him a pleasure to work with. Those two guys, I would say. When they're on screen, our characters have a lot of fun together.
What was your first paid job?
I think it was mowing my grandfather's lawn. I'd do that every fortnight and he'd dig out whatever was in his wallet. My first proper job, though, was working on the checkouts at Big W.
Having just finished a domestic violence storyline in which Remi was the good guy, would you rather play the hero or the villain?
I enjoy participating as well. The most compelling villains are frequently those who support a noble cause but have slightly different perspectives from the hero. But because of Remi's strong beliefs and ideals on Home And Away, I was extremely lucky to play him in his conflict with Jacob (Alex Williams). For Alex, it was an extraordinarily challenging task. I believe he handled it nicely and avoided exalting Jacob's actions.
What is your worst habit?
I have a strong interest in food. I enjoy a delicious dinner, and I'll consume everything you serve. The only issue is that I believe I have a tendency to eat rather loudly. I can be noisy, so I've been told. That, I believe, is my worst.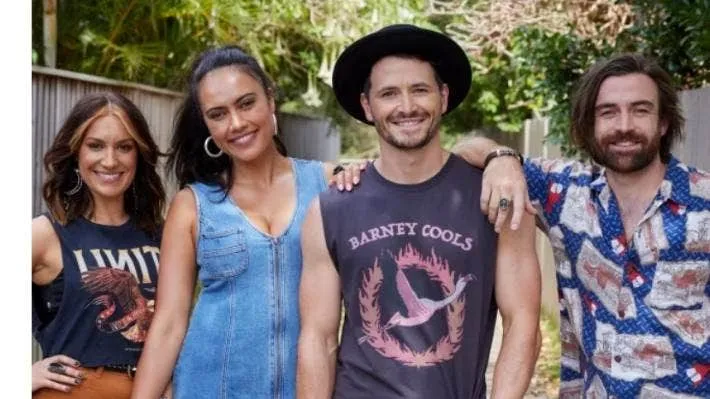 What are your desert island must-haves?
Assuming I already have fire and water, the most important would be my guitar. I think that would stop me going insane. And a good series of books, like the Harry Potter collection. That would help pass the time.
What is something that people would be surprised to know about you?
I pretty much tell everyone everything about myself, but one thing that not many people know about me is that I ride a motorcycle. I have a small cafe racer, but a Triumph Bonneville would be my ideal motorcycle. I haven't taken a significant trip, but I do intend to do one soon with (my Kiwi co-star) Ethan Browne. I really want to take a lengthy destination trip. Ewan McGregor's Long Way Round documentary is one of my favorites. In the coming few years, doing it would undoubtedly be one of my objectives.