In a recent Home and Away promo, newcomer Heather holds several Summer Bay locals hostage as she pursues her vendetta against Marilyn.
Although Heather (Sofia Nolan) has only recently made her debut on British television, Australian viewers have already witnessed her torturing the citizens of Summer Bay for a little over a month.
She was later revealed to be Marilyn's (Emily Symons) daughter, the offspring of an affair Maz once had while working as a housekeeper in the country with a married man. Marilyn hasn't seen her daughter in 27 years after the man and his wife persuaded her to give up the infant, which they later adopted for themselves.
Now that Heather has located her birth mother in Summer Bay, she hasn't exactly placed a high priority on developing a close relationship with her daughter.
After breaking into Heather's van and finding the birth certificate naming Marilyn as the mother, Marilyn quickly realized that Heather was her long-lost child. With this information, Marilyn was able to prove her claim.
When Maz and Heather recognized each other as mother and daughter, it appeared that a happy reunion was imminent. Although Heather couldn't bear the thought of her closest friends finding out that she had been keeping such a significant secret from them for decades, she was annoyed when Maz asked her to keep the revelation between them. To Heather, it appeared as though her mother was still ashamed of Heather's existence.
Unfortunately, Marilyn's closest friends have taken the brunt of Heather's problems in recent episodes.
She vandalized Leah's (Ada Nicodemou) house after Leah warned her to stop playing games, then she slashed John's (Shane Withington) tires after John objected to the way she was treating Marilyn.
Marilyn accepted responsibility for cutting John's tires while still under Heather's sway because she didn't want her daughter to get into trouble and she felt responsible for Heather's actions.
Next week's episode of Home and Away will feature Heather pretending to want to make amends while escorting Marilyn and her friends to an opulent country mansion.
But things are not as they seem, and Heather has other plans for getting back at the person who abandoned her.
The new promo begins with a voiceover from Marilyn: "When my daughter was taken away from me, I thought I'd never see her again. But finally I have her back.
She's given me a second chance. And now, we can start over. I hope she can forgive me."
Of course, things won't be that easy.
Maz tells her daughter, "Darling, I'm so proud of you."
Heather responds, "You have no idea how much it means to hear that from you. "I can't wait to see what happens next for us," you said.
Shots of some of Heather's earlier actions, such as breaking into Summer Bay House while Marilyn slept and inspecting the candid photo she took of Marilyn in the diner, are interspersed throughout the promo before the real action starts.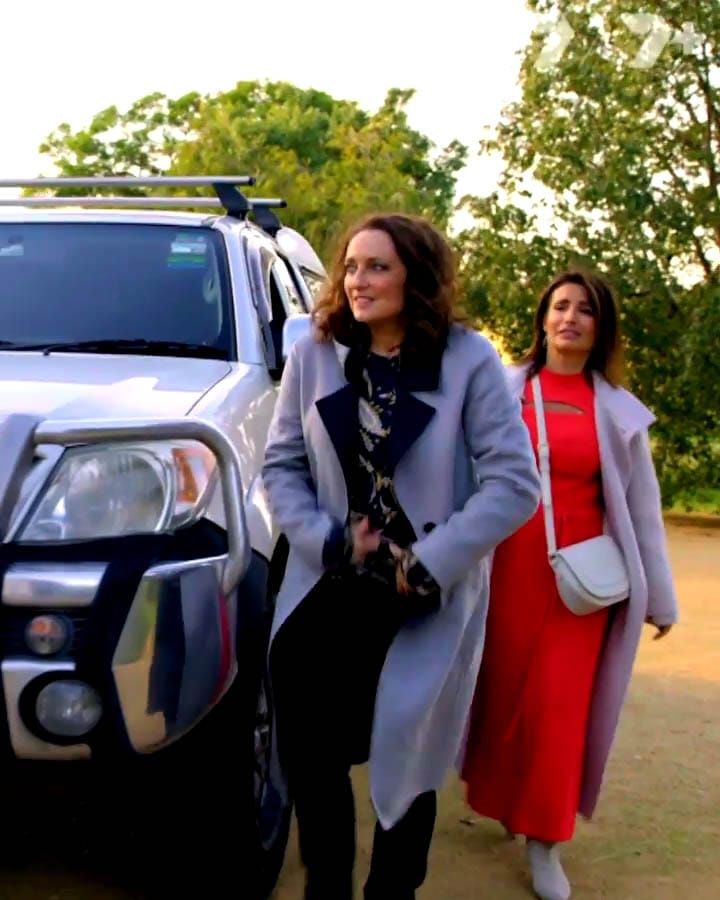 The dramatic events that take place the following week take place at a sizable manor house in the countryside.
It appears that Heather has invited Maz, Leah, Roo (Georgie Parker), and Alf (Ray Meagher) to the house for a dinner of atonement.
Roo, Alf, and Leah are seen in the foyer; Leah's expression suggests that she is unsure about the gathering and its troubled host.
It's understandable that Heather hasn't yet come to believe that the Summer Bay newcomer has changed since she broke into and vandalized Leah and Justin's (James Stewart) home just a few days ago.
Heather greets everyone as she emerges from the top of the grand staircase, and then a shot of her opening the doors to the opulent dining room with champagne on ice in the background is shown.
Then, a toast – "to forgiveness!"
But Heather is far from forgiving.
"Your friends, they don't know who you really are," Heather tells her long-lost mother, sinisterly. "I'll fix that."
Then, we see Marilyn tied to a chair, arms bound, with a TV in front of her showing live feeds from various rooms of the sprawling mansion.
Cutting to a wider shot, we see Maz's mouth is gagged – she can't even cry out for help.
She can see her daughter on the CCTV, as Heather raises a glass and looks up at the camera with a smile.
Cry out for help wouldn't be of much use because it appears Heather has knocked out at least some of the other visitors, making Maz not the only Summer Bay favorite in danger.
Heather says, "She took everything from me. I'm going to do the same to her now.
Leah is found motionless on the ground.
Cable ties are wrapped around Irene's wrists, who is slumped in a chair and also unconscious.
Then, as Marilyn screams, we see Marilyn and Heather running through the doors.
"What do you want from me?" she asks her daughter.
"The reality!"
What, that I failed you as a mother and left you? Marilyn begs, "I had no choice, but Heather wasn't in the mood to listen.
Heather screams, "Liar.
The alarm is triggered for some reason, and we see Senior Constable Cash Newman (Nicholas Cartwright) at the residence searching through the stairwells and closets for the hostages.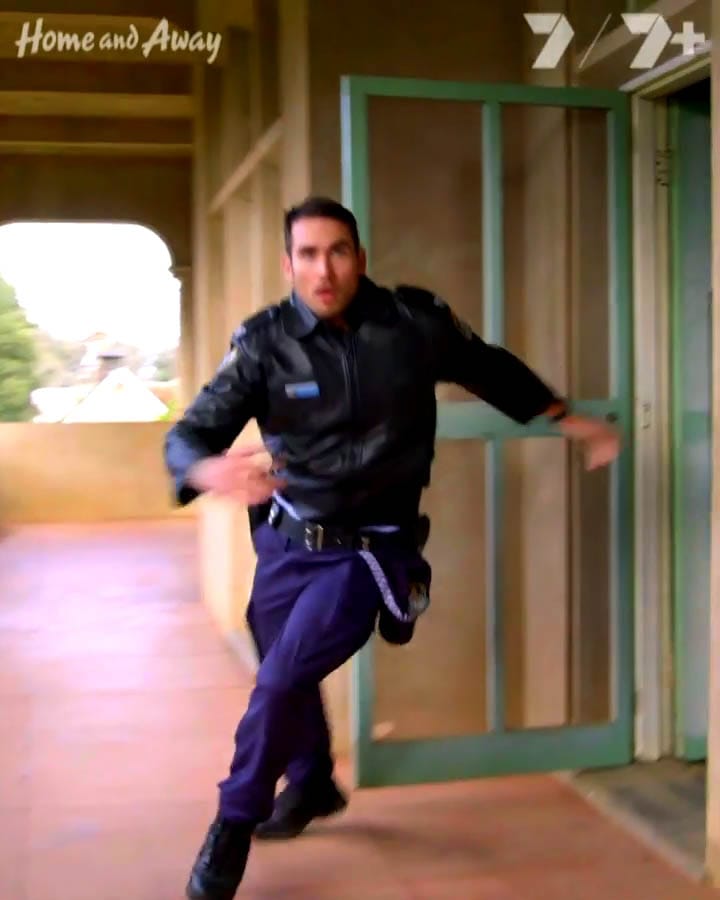 Will he find them in time?
Maz is seen gazing through the glass at the end of the advertisement before Heather approaches from behind and strikes her hard in the head, sending her to the ground.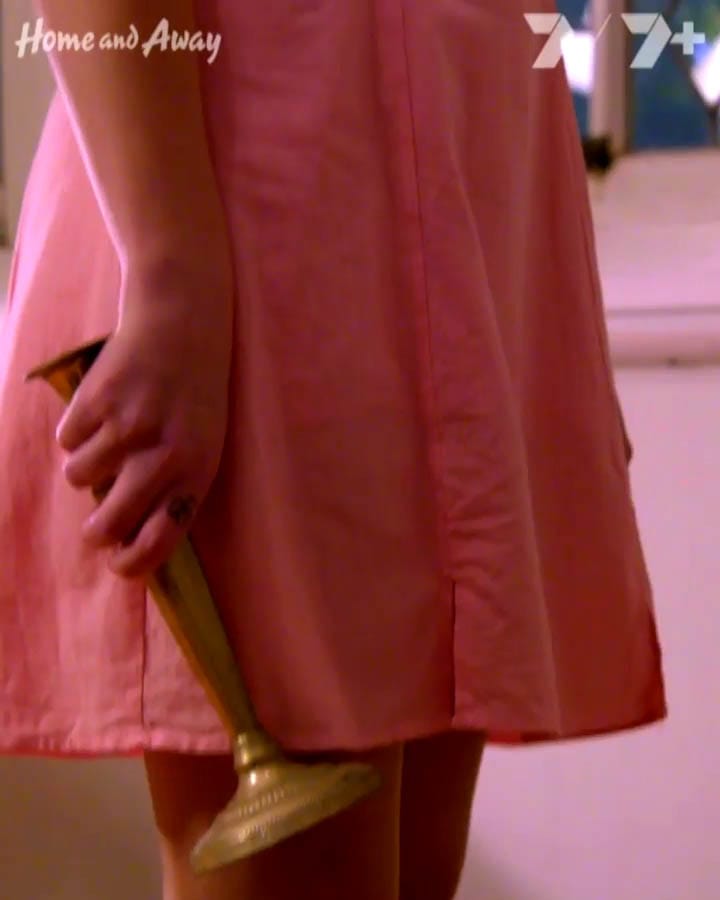 "Some things are just irreversible."
Will all of Heather's victims survive, considering that a spoiler for next Thursday's episode states that "Rose and Cash pursue a suspected murderer"?
We anticipate Rose (Kirsty Marillier) and Xander (Luke Van Os), who appeared in the earlier-this-year filming, to play a role in the rescue, even though they aren't mentioned in the promo.
Many members of the Home and Away cast traveled to Iandra Castle, a sizable homestead in New South Wales' Central West, in May to shoot the dramatic new scenes.
The Iandra Castle complex consists of the actual homestead, stables, surrounding gardens and parkland, a chapel, and a cemetery, but the week's tense hostage situation will be focused primarily on the homestead.
For what we now know to be Heather's forgiveness dinner, Ray Meagher, Ada Nicodemou, Georgie Parker, Emily Symons, and Lynne McGranger were all present on the shoot, dressed in vibrant attire.
Constable Rose Delaney (Kirsty Marillier), Senior Constable Cash Newman (Nicholas Cartwright), and paramedic Xander Delaney (Luke Van Os) are the three emergency service members of Summer Bay. They were also filming; images of Rose and Xander in their respective uniforms can be found on Kirsty and Ada's Instagram accounts.